"The Cubs we put together in 1935, when they won 100 games to take the pennant, were the best group I ever managed," reminisced Charlie Grimm in 1968.  "We almost had to crack that magic 100 to take the pennant because the Cardinals won 96 and the Giants 91.  And, to win it, we roared down the stretch with 21 in a row.  In all my 50 years in baseball I never experienced a season to come close to 1935."  (Click on image to enlarge.)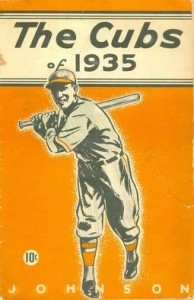 Few other Cubs managers have experienced such a season, and no Cubs team since then has won 100 games.  And what a team it was!   Pitchers included the "big four": Charlie Root, Larry French, Bill Lee, and Lon Warneke.  Pacing the North Siders' offense were outfielder Augie Galan (batting .314 that year) and future Hall of Famers Billy Herman at second base (batting .341) and catcher Gabby Hartnett (with a team-leading .344).  Hartnett also led the Cubs with his 91 runs batted in, and he took home the National League's Most Valuable Player honors as well.  He would attain near legendary status three years later with his famous "homer in the gloamin'."  (Left:  The 1935 Chicago Cubs Yearbook.)
Unfortunately, even with all this talent the team just couldn't put up many wins.  On September 4, the Cubs were in third place with 23 games left to play, and few sportswriters gave them much of a chance at the pennant.  "They did a good job," remembered John Carmichael, longtime sports editor of the old Chicago Daily News, "but they were always in trouble.  The opposition always had men on base."
But then began one of the great stretch runs in baseball history.  The Chicago Tribune recalled in 1986 that the bats of the Cubs "cracked out like big metronomes."  From September 4 through September 27 the North Siders won 21 games in a row, clinching the pennant on the 27th following the first game of a doubleheader.
As the Associated Press reported:  "Rising to the crest of baseball greatness and crushing even the mighty Dizzy Dean with a devastating 15-hit barrage, the sensational men of [Manager] Grimm capped their almost unbelievable drive today by battering the Cardinals 6-2 for their 20th straight victory and the National League pennant."   (Right: Gabby Hartnett (left) and Billy Herman in 1939.  Both played on the 1935 Cubs team. Click on image to enlarge.)

Their "unbelievable drive," however, faltered in the World Series against the Detroit Tigers, who were playing for their first championship title.  A few sportswriters saw it all coming, including veteran scribe Bill Corum, who wrote:  "Chicago has a pretty fair pitching staff, particularly . . . Lonnie Warneke.  But he's no Dizzy Dean.  Besides, experience has taught me to be just a little suspicious of any ball team coming off a long winning streak.  A hot team can go cold on you as quickly as a pretty gal who gets a call from Clark Gable."
Others–including the Cubs–held no such suspicions, and it was a confident group of Chicago players who walked onto Detroit's Navin Field on October 2, 1935.  Charlie Grimm had told the Chicago Daily Times that "we'll take 'em in five or six [games]," and few members of his team–if any–were surprised when Lon Warneke handily defeated the Tigers in Game 1 by the score of 3-0.
But Grimm's prediction was more than a little off.  The Cubs lost the next three games, and although Warneke came back in game 5 with an 8-7 win, it was too little, too late.  The Tigers finished the World Series (and Chicago) with a victory in game 6.
Phil Cavarretta began his major league career with the Cubs in 1934, and he was only nineteen years old when he went to the World Series as the team's first baseman.  "We all felt bad because the players on the '35 club were close to each other," he recalled years later.  "We were friends and and buddies.  The harmony on our club was very, very good.  We would have our disagreements, skirmishes, off the field, but when it came to playing together on the field, as a unit we were out there to win ball games. . . . We were so disappointed.  We had played so well and had come so close to winning."