"At last!"  –The headline of the front page of the Chicago Tribune on November 3, 2016, the day after the Chicago Cubs clinched the World Series, ending their 108-year title drought.
How did the Chicago Cubs get their name?  Have they always called Wrigley Field home?  Is it true that many years ago a couple of players were shot by obsessed fans?
The purpose of this website is to answer these questions, using original resources such as newspapers, interviews, archival records and photographs.  Baseball may be the stuff of legend, but I also want to separate the facts from entertaining myths (sorry, but Babe Ruth probably did not "call his shot" during the 1932 World Series and there is no such thing as the billy goat curse).
Just a Brief Interruption to Mention My Latest Cubs Book
I'm pleased to announce that The History Press of Charleston, South Carolina (an imprint of Arcadia Publishing), is publishing my The Chicago Cub Shot for Love: A Showgirl's Crime of Passion and the 1932 World Series.
Here is a summary of the book, taken from the back cover:  "In the summer of 1932, with the Cubs in the thick of the pennant race, Billy Jurges broke off his relationship with Violet Popovich to focus on baseball.  The famously beautiful showgirl took it poorly, marching into his hotel room with a revolver in her purse.  Both were wounded in the ensuring struggle, but Jurges refused to press charges.  Even without their star shortstop, Chicago made it to the World Series, only to be on the wrong end of Babe Ruth's legendary Called Shot.  Using hundreds of original sources, Jack Bales profiles the lives of the ill-fated couple and traces the ripple effects of the shooting on the Cubs' tumultuous season."
My original sources include newspaper articles, interviews, archival documents, court records, and never-before-published photographs.  This was front-page news in Chicago, and newspapers clamored to provide the latest.  Who was the "mysterious blond companion" seen with Violet?  Do her formative years provide any insights into what may have led her to confront Billy Jurges in his hotel room and swiftly pull a gun from her purse? Did Babe Ruth really "call his shot"? I cover all this and more in my book, and one thing is certain: with her own shots earlier that summer, a young Chicago woman unwittingly set in motion events that indirectly changed baseball history.
The shooting made Violet something of a legend, as well. Author Bernard Malamud rarely discussed the sources for his works, but it seems likely that this shooting—as well as the 1949 shooting of former Cub Eddie Waitkus—inspired him to include a passage in his 1952 novel, The Natural, in which a woman shoots ballplayer Roy Hobbs. The Natural and that scene continue to live on today, thanks to the hit 1984 motion picture starring Robert Redford as Hobbs.
I have what I think is a marvelous PowerPoint on Billy and Violet, and I have already set up both in-person and Zoom presentations.  The chairpersons of a couple of book clubs have told me that they intend to select The Chicago Cub Shot for Love for their members to read, and asked if I could lead the online discussions.  Of course I can!
–Jack Bales (James E. Bales), jbales@umw.edu
_ _ _ _ _ _ _ _ _ _ _ _ _ _ _ _ _ _ _ _ _ _ _ _ _ _ _ _ _ _ _ _ _ _ _ _ _ _ _ _ _ _ _ _ _
I began working at the University of Mary Washington Library as a reference librarian in 1980.  I've done quite a bit of nonfiction writing over the years, and since about 2009 I've been researching the Chicago Cubs.  I've published a few magazine pieces and several peer-reviewed journal articles on the team and am now working on a Cubs documentary history.  As my research progresses, I summarize my findings on this website.  (The menu of my top-level pages is below the masthead.  Some of the headings have sub-sections, which you can see when you mouse-over the main headings. I also provide explanatory information when you mouse-over the sub-section headings.)
I particularly like the masthead, which my brother, David Bales, designed for me.  It is from a photograph of Wrigley Field, where the National League Cubs have played since 1916 (it was called Weeghman Park back then).  Actor Harrison Ford, who plays Branch Rickey in 42, the 2013 motion picture about Jackie Robinson, grew up in Chicago and remembers Wrigley Field as "a unique, intimate stadium.  There's no parking lot, and people can watch the game from houses across the street.  It was surprising to see well-manicured green grass in the middle of the city."  (Click on image to enlarge.)
And green ivy, too, which is the focus of this website's name and colorful masthead.  The iconic ballpark was built in 1914 for Charles Weeghman's Chi-Feds (later called the Whales), a team in the short-lived Federal League.  Naturally, the stadium has received a face-lifting here and there over the years, and in 1937 new bleachers and new scoreboard were constructed.  And as the Chicago Daily Tribune pointed out in September that year:  "Bittersweet now is climbing the new buff brick circular wall, and when planting time is right Boston ivy will thicken the foliage."
Take another look at the masthead.  That "400"–and other numbers–on the bricks have a special purpose.  Those painted markers in the ivy measure distances from home plate to the outfield walls.  The deepest part in center field is 400 feet–hence the marker on the wall.  Other distance markers are also painted on the walls, with the ivy carefully trimmed around them. Wrigley Field is so identified with its ivy that people occasionally try to steal it (which the team management has a tendency to frown on), while others identify their favorite team by placing references to the ivy on their license plates (as in the above photograph).
In the fall of 2011, I filled the Library's display cases with some of my research material.  (Right):  That's the Cubs' 1929 "Murderers' Row" on the top shelf, followed by a wire photo of managers Connie Mack (Philadelphia Athletics) and Joe McCarthy (Cubs) shaking hands before the 1929 World Series.  Below that is a replica of the 1909 Cubs road uniform.
Click on the display case images to enlarge them.  See the photograph of the ballplayer at lower right in the photo above?  That's Chuck "The Rifleman" Connors, who played first base for the 1951 Cubs.  He inscribed this photograph to ballplayer Sal "The Barber" Maglie (who was renowned for giving batters "close shaves" with his inside pitches).  You can get a better view of this photograph on my web page devoted to Connors.
Speaking of photographs, one of my favorite pages on my website is the one devoted to Violet Valli and Ruth Steinhagen, the two femmes fatales who shot Billy Jurges and Eddie Waitkus.  It's loaded with photographs, some of which I've collected myself over the years.  It's all chronicled in The Shootings. (See below for information on my 2021 book on this)!
(Left):  This issue of Newsweek (top shelf, right) features a cover story on the 1938 World Series.  To its right is a photo of Gabby Hartnett right after he hit his famous homer in the gloamin' on September 28, 1938.  In the display cases I also explored other significant events and ballplayers' careers.  The December 2011 issue of Vine Line, the Chicago Cubs magazine, includes photographs of my exhibit.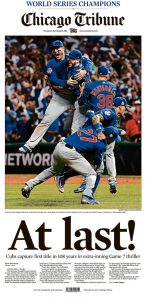 This is all a lot of fun, and probably the best part is sharing my interest (and enthusiasm!) with fellow researchers and colleagues.  Speaking of colleagues, I have wonderful friends here at the University of Mary Washington, both in the Library and in other departments on campus.  Moreover, I am fortunate to be assisted by other baseball researchers (including some members of the Society of American Baseball Research) who know a lot more than I do and are more than willing to share their expertise with a relative newcomer to the field.
(Right:  The front page of the Chicago Tribune on November 3, 2016, celebrating the Chicago Cubs and their winning of the World Series after a 108-year championship drought.)
I am pleased to say that my book on the Chicago Cubs was published in 2019.  I draw upon newspaper articles, books, archival records, and other resources to chronicle the team's early years. I describe the planning stages of 1868; examine the years when the ballplayers were variously called White Stockings, Colts, and Orphans; and relate how a sportswriter first referred to the young players as Cubs in the March 27, 1902, issue of the Chicago Daily News. Reprinted selections from firsthand accounts provide a colorful narrative of baseball in 19th century America, as well as a documentary history of the Chicago team and its members before they were the Cubs.
Comments and reviews have been very good.  For example, the Midwest Book Review writes that "Before They Were The Cubs is a 'must read' for the legions of dedicated Cubs fans and will prove to be of immense interest to scholars and non-specialist general readers alike with respect to the history of American baseball."  The well-respected Choice, which reviews books for libraries, affirms that "this is a solid historical work, yet it remains accessible to the public at large.  It would make a valuable addition for both public and academic libraries."  I was also featured on the podcast Good Seats Still Available, "a curious little podcast devoted to the exploration of what used-to-be in professional sports." I joined the podcast to "dig into the surprisingly rich history of Major League Baseball's long-time North Side Chicago franchise."
I was flattered when the University of Mary Washington publicized my book, and I was more than overwhelmed when friends hosted two parties for me!  (Click on below thumbnail images to enlarge.)
My longtime friends Bill and Terrie Crawley held a big party for me at their lovely home on Sunken Road.  Some of the many guests are shown at left in the dining room. On Bill and Terrie's porch (right) are Renee, Bill, Carolyn, me, Terrie, Patrick, and Carla.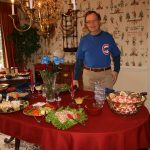 Note Bill's baseball tie (left) and Terrie's blue dress in honor of the Cubs. And the blue and red Cubs motif was everywhere, including the tulips on the dining room table.  On the cart in the background in the right photograph were hot dogs, peanuts, and popcorn.
We all enjoyed every minute of the get-together, and Bill and Terrie really outdid themselves with their gracious hospitality (as more than one person pointed out).  Bill even made a toast in honor of me and my book, which touched me a great deal.  What a fantastic afternoon, being in the company of such good friends.  Thanks so much, Bill and Terrie.  (Bill, by the way, is a lifelong St. Louis Cardinals fan.)
My colleagues in the Library and in various academic departments hosted a campus-wide party for me at the Jepson Alumni Executive Center.  (Click on below images to enlarge.)
Persons walking into the room were greeted by a Cub bear holding a copy of my book.  A huge cake featured the image of the book cover.  Cub cupcakes surrounded it, laid out in the letters of J and B.  Favors included buttons with my photograph on them.
A hallmark of iconic Wrigley Field is its ivy, of course, so at the party there was a brick wall for photographs that featured ivy and the famed 400-foot center field sign.  I am holding a marvelous mock-up of the Wrigley Field marquee alongside my son, Patrick (note our buttons)!
Look carefully at my tie–it has images of the book cover on it!  A PowerPoint presentation that ran constantly featured illustrations and photos from the book (and photographs of me as well, including a couple of me as a kid wearing a Cubs shirt).
The campus bookstore was selling my book, and I signed quite a few copies.  I got to talk to so many people, including former colleagues.  We all had such a wonderful time amidst much laughter, good humor, and lively conversation.  The whole affair was so well organized. My friends in the Library all got together to arrange it for me, and I thank them!
Just one more thing. I hasten to add that I have no athletic talent at all, but when my brothers and sisters were growing up in Aurora, Illinois, we played catch or softball.  In the photo below, from left to right, are Bill, Dick, and me our Cubs t-shirts (with our father's Renault in the background).  I look forward to working on this Cubs website.  –Jack Bales (James E. Bales), jbales@umw.edu
This website was last revised by Jack Bales on June 30, 2019.