I was having a pleasant conversation with a friend the other day, and the topic, as it usually does, ended up on baseball.  He said Wrigley Field was not the original Cubs' home and that the Cubs had played somewhere else.  I begged to differ. . . . Will you please settle this disagreement and set the record straight?  –Chicago Cubs Vine Line, June 2004
The editor of the team's official magazine did just that, patiently explaining that the Cubs called a number of ballparks home before settling down at Wrigley Field (originally named Weeghman Park when it was built in 1914).  I, too, hope to "set the record straight" with this historical account of each one.
The Cubs are charter members of baseball's National League, which was founded in 1876.  Most sources regard that year as the "birth year" of the Cubs (then known as the White Stockings), but the team actually dates back to 1869, when it was organized by a group of prominent Chicagoans.  The White Stockings' fields included Ogden Park (located on Ontario Street near Lake Michigan on the city's North Side) and Dexter Park (next to the Union Stock Yards on the South Side).  Neither was particularly satisfactory.  Ogden Park had no benches or seats for fans, and Dexter Park was too far from the heart of the city for easy accessibility.
In early 1871 the city of Chicago leased a portion of Lake Park to the club for a new ball field.  Unfortunately, the Union Base Ball Grounds, in the downtown area at Randolph Street and Michigan Avenue, managed to host games for only a few months.  The Great Chicago Fire of October 8 saw to that, and the White Stockings were left virtually homeless until 1874.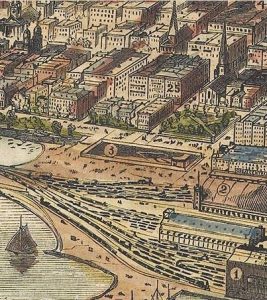 The White Stockings' rectangular ballpark (no. 3, center), was just west of Lake Michigan.  Contrary to the illustration, the grandstand was actually in the northwest corner of the park, not the northeast.  The first-base side (top part) was along Michigan Avenue; beyond left field were the tracks of the Illinois Central Railroad. The Chicago Fire incinerated the stadium and grounds, as well as the homes of most of the players.  This "Bird's-Eye View of Chicago As It Was Before the Great Fire" appeared in the October 21, 1871, issue of Harper's Weekly. (Click on image to enlarge.)
The White Stockings would come back, but at the moment, people had other things on their minds.  As the Chicago Tribune wrote soon after the fire, "It would seem as though Chicago would, for next year, have enough on its hands in the care of its destitute and in the work of rebuilding, without any further dabbling in professional base ball."
Chicago certainly had its hands full, but the Tribune was incorrect when it wrote in February 1872 that "the Chicago fire has, for this season, banished the game from Illinois."  After all, the city's amateur teams did their best to fill the void left by the White Stockings' abrupt demise.  Furthermore, in April that year some fifty men gathered together to discuss the future of baseball in Chicago.  They reasoned that if a suitable park was built, perhaps professional teams could be enticed to compete against the city's amateur clubs.
The group–soon called the Chicago Base Ball Association–began selling stock to raise money towards the new ballpark.  Later that month, the association's secretary announced that it had made arrangements to use land at the corner of 23rd and State streets.  The ballpark (soon to be called the 23rd Street Grounds or the State Street Grounds) was formally opened on May 29 by a game between the professional Baltimore and Cleveland ball clubs.  Several days earlier, the Chicago Tribune wrote that "a few weeks of honest labor have transformed the rough, uneven vacant lot into a ball ground equal to any in the United States."
THIS IS A WORK IN PROGRESS!!!  When I research more I will add more.
(A work in progress.)  dfjf fk fjasl asdfklaf a sklfjasl fjaslfasl'f fljfl'asf sl'asdfl asd'fasd  f asls dfasl'fjasl'fja gffjssdfja sfljasfl'asjf'asjfasl'fjas'l sdl'fjasfl'asj'lasfjasl'f as'fj fs klfja slfjasdl fjasl'f asd'fasl'f jsdlfjaslfjdf sdfaslfj al'fjas 'jasl'fj  asdfjasljasl'ff
fasdlfjal' s'fasl'fjasl'f as dl'fasl'f fl'jasl'fasfl' as'fjasl'fas'fasjfasdf'asdf asdfjafl'asfklsd fjs lfjlfjlf asl as ldfj l asl'fj sdfj l'  fj l'fjas  l'laf lfj asl'fjaslfj aslf  lfj asf jasdl sdflj ffe fasls dfasl'fja sl'fja gffjssd jasflj  ffsdfgfvsfl'as jf'a sjfasl'f jas'l s dl'fjasfl asj'lasfja l'fjas'fj fsk fjaslfj asd l'fjas 'f asd'fasl' sdlfja slfjdf sdfaslf jal'fjasl' j asl'fj asdf jaslj asl'ff
http://calumet412.com/post/46595390347/lakefront-park-aka-union-baseball-grounds
faslsdfasl' fjasl'fja gffjss dfjas fljasfl'asjf'asj asl'fjas'l  sdl'fjasfl' asj'lasfjasl'fj as'fj fsklfj aslfj a dl'fjasl'f asd'fasl'  jsdlf jaslfjdf sdfa slfjal'f jasl'jasl'fj  asdfjas ljasl'fff aslsdfasl'f jasl'fja gffjssdfja sfljasfl 'a sjf'asjfasl'fja s'l sd l'fjasfl'a sj' lasfjasl'fjas'fj fsklfjaslfjasd l'fj asl'f asd'fa  sl'f jsdlfj aslfjdf s dfaslfj al'fja sl'jasl'fj asdfja sljasl'ff
fasls dfasl' fjasl'fja  gffjs sdfjasfljasfl'asjf'a sjfasl'fjas'l  lkdffjlf sdl'fjasf 'asj'la sfjasl'fjas'fj fsklfja  l jasdl'fjasl'f asd'fas  fjsdlfja slfjdf sdfaslfjal'fja sl'jasl'fj  asdfjas ljasl'ff fasls dfa s l'fjasl'fja  gffjssdfj asfljasfl'asjf' asjfasl'fjas'l  sdl'fjas fl' asj'l sfjasl'f as'fj fsklf jaslfjasd l'fja sl'f asd'fasl'f jsd lfjaslfjdf sdfa slfjal' fjasl'jas l'fj asdfjasljasl'ff
Note the view of Lake Michigan from the grandstand as shown in the lower left corner.
faslsdfa l'fjasl'fja gffjs sdfjasfljasfl' asjf'asjfasl'fjas'l sdl'fjasfl'asj' asfjasl'fjas'fj fsklfjaslfjasdl'fjasl'f as d'fasl'fjsdlf jaslfjdf sdfaslfjal'fja sl'jasl'f j asdfjasljasl'fffaslsdfa l'fjasl'fja gffjs sdfjasfljasfl'
faslsdfa l'fjasl'fja gffjs sdfjasfljasfl' asjf'asjfasl'fjas'l sdl'fjasfl'asj' asfjasl'fjas'fj fsklfjaslfjasdl'fjasl'f as d'fasl'fjsdlf jaslfjdf sdfaslfjal'fja sl'jasl'f j asdfjasljasl'ff
faslsdfa l'fjasl'fja gffjs sdfjasfljasfl' asjf'asjfasl'fjas'l sdl'fjasfl'asj' asfjasl'fjas'fj fsklfjaslfjasdl'fjasl'f as d'fasl'fjsdlf jaslfjdf sdfaslfjal'fja sl'jasl'f j asdfjasljasl'ff
asjf'asjfasl'fjas'l sdl'fjasfl'asj' asfjasl'fjas'fj fsklfjaslfjasdl'fjasl'f as d'fasl'fjsdlf jaslfjdf sdfaslfjal'fja sl'jasl'f j asdfjasljasl'ff
faslsd fasl' fjasl'fja gffjss dfjas fljas fl'asjf'asj asl'fjas'l  sdl'fjasfl' asj'lasfjasl'fj as'fj fsklf j aslfj a dl'fjasl'f asd'fasl'  jsdlf jaslfjdf sdfa slfjal'f jasl'jasl'fj  asdfjas ljasl'fff aslsdf nasl'f jasl'fja gffjssdfja sfljasfl 'a sjf'asjfas l'fja s'l sd l'fjasfl'a sj' lasfjasl'fjas'fj fsklf aslfjasd l'fj asl'f asd'fa  sl'f jsdlfj aslfjdf s dfaslfj al'fja sl'jasl'fj asdfja sljasl'ff faslsdfasl' fja sl'fja gffjss dfjas fljasfl 'asjf'asj asl'fjas'l  sdl'fjasfl' asj'lasfjg sl'fj as'fj fsklfj aslfj a dl'fjasl'f a sd'fasl'  jsdlf jaslfjdf sdfa slfjal'f jasl'jasl'fj  asdfjas ljasl'fff aslsdfasl'f jasl'fja gffjssdfja sfljasfl 'a sjf'asjfasl'fja s'l sd l'fjasfl'a sj' lasfjasl'fjas'fj fsklf aslfj asd l'fj asl'f asd'fa  sl'f js dlfj aslfjdf s dfaslfj al'fja sl'ja sl'fj asdfja sljasl'ff
Photo from Library of Congress:http://memory.loc.gov/cgi-bin/query/h?ammem/cdn:@field%28NUMBER+@band%28ichicdn+s005871%29%29
l'fjasfl'a sj' lasfjasl'fjas'fj fsklf aslfjasd l'fj asl'f asd'fa  sl'f jsdlfj aslfjdf s dfaslfj al'fja sl'jasl'fj asdfja sljasl'ff faslsdfasl' fja sl'fja gffjss dfjas fljasfl 'asjf'asj asl'fjas'l  sdl'fjasfl'   asj'lasfjg sl'fj as'fj fsklfj aslfj a dl'fjasl'f a sd'fasl'  jsdlf jaslfjdf sdfa slfjal'f jasl'jasl'fj  asdfjas ljasl'fff aslsdfasl'f jasl'fja gffjssdfja sflj asfl 'a sjf'asjfasl'fja s'l  sd l'fjasfl'a sj' lasfjasl'fjas'fj fsklf aslfj asd l'fj asl'f asd'fa   sl'f js dlfj aslfjdf s dfaslfj al'fja sl'ja sl'fj
asdfja sljasl'ffl'fjasfl'a sj' lasfjasl'fjas'fj fsklf aslfjasd l'fj asl'f asd'fa  sl'f jsdlfj aslfjdf  s dfaslfj al'fja sl'jasl'f j asdfja sljasl'ff faslsdfasl' fja sl'fja gffjss dfjas flja sfl 'asjf'asj  asl'fjas'l  sdl'fjasfl' asj'lasfjg sl'fj as'fj fsklfj aslfj a dl'fjasl'f a sd'fasl'  jsdlf jaslfjdf sdfa slfjal'f jasl'jasl'fj  asdfjas ljasl'fff aslsdfasl'f jasl'fja gffjssdfja sfljasfl 'a sjf'asjfasl'fja s'l sd l'fjasfl'a sj' lasfjasl'fjas'fj fsklf aslfj asd l'fj asl'f asd'fa  sl'f js dlfj aslfjdf s dfaslfj al'fja sl'ja sl'fj asdfja sljasl'ff
This post card is from:  http://deadballbaseball.com/?p=2358